indentOwning a good model railway is a genuine delight for a surprising number of people. For those who do not have one however, simply looking at other people's model railways can be almost as much fun and, since most of our new visitors head straight for our Photo Gallery out of sheer curiosity, we have put it right at the beginning to make it easy for you!
indentOn the other hand, if you do want to know more about us and our services, read on...
indentMost new visitors also have a lot of questions about "Who, What, Where, When and How" - not to mention "How much" ! You can find out whatever you want to know on our Home Pages. Besides all the usual info about who we are, what we do and what it costs to have us make a model railway for you, there is a lot of other, (sometimes surprising), information there for you too. Have fun!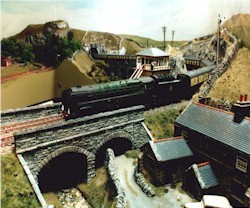 Part of Tupdale; a 00 gauge model railway which we completed in 2001. See "Gallery - Tupdale" (click photo above) for lots more photos with "in-depth" captions.