---
C

OUNTRYSIDE MODELS
Artists in Miniature Landscape
---
About Andy McMillan.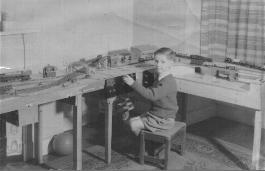 Andy McMillan's history is really that of his company so here's what he has to say about what started it all...
"Somewhere back in the mists of memory, possibly due to my father going off by train to Scotland when I was but a babe in arms, I caught the smell and sound of steam, along with the emotion of a departing father. Whatever effect that had, on being told at the ripe old age of three that "trains are in the distance", I apparently replied, "Take me to the distance" ! They did and as a result I had my first model railway for my fourth birthday. Then followed a variety of layouts until the dreaded "cramming" for school exams closed the line. I was then trainless for some years while I set about learning the tricks of the wiring trade, becoming eventually a prototype wireman - no more problems wiring up layouts !"
"After much pondering I decided to become self-employed, a decision that got me a house and, at last, room for a railway again. Working now to much higher standards there were still plenty of things I didn't know about on the scenic side but six months at Pendon Museum cured that for it taught me the invaluable lesson that if you want a model to look realistic all you have to do is to look at real life and just model what is there."
"I have the greatest respect for Pendon and for the superb representation of the Vale of the White Horse they are achieving but it has taken them over fifty years and is still not finished. Such extremely painstaking work is admirable but just not practical in business so I left to learn quicker methods although I remain most grateful for the chance to have worked with some of the country's best modellers. It is at this point appropriate to add my own comisserations to the family of that doyen of railway modellers Mr Guy Williams. I knew him, not well, but the inspiration he has provided over many years has undoubtedly improved my own modelling and, moreover, improved my understanding of the technical aspects involved in making model trains which work and go on working. Pendon could have had no better "CME"."
"After a successful exhibition of my then-latest railway at Oxford in 1979 I began Countryside Models and started taking orders. Before long I was making buildings for the National Model Museum. Their interest in my work and me resulted in a contract to design their exhibition model railway, and to make it work after their own unsuccessful initial attempts. Within a few weeks work it did, and it lasted for some 20 years until about the year 2000. (When I last saw it in the summer of '99 it was still running; certainly it looked a little dusty but after some 19 years it still had a powerful presence as you walked in the door. . .)
"Orders then started coming thick and fast so I left the museum and set up Countryside Models in a purpose-built workshop in Poole. Pressure of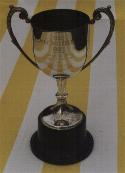 work became such that I needed to take on staff and so the search began for larger premises. We moved to an old Maltings in Westbury, a location which happened to provide the perfect prototype for our award-winning model of the station of that name; a layout which featured as "Railway of the Month" in PECO's popular monthly magazine "Railway Modeller" in January 1989. (Look it up; seeing is believing . . .) At the end of that year it was awarded the reader's ultimate accolade by being voted "Railway of the Year" for which we were awarded the "PECO CUP"; a trophy which still stands proudly in our showcase."
"Now, following a move to Somerset some 15 years ago and the more recent acquisition of a large workshop, the advent of the Internet and its accessability by more than half the population of the UK allows us to put our unique services before not only British customers but a world-wide public. I therefore look forward to creating wonderful projects for an ever-wider audience of customers who appreciate the very finest in scenic, reliable model-railway making."
(If you wish to see proof of any of the above, click here)