---
C

OUNTRYSIDE MODELS
Artists in Miniature Landscape
---
Who are COUNTRYSIDE MODELS?
trainsAnyone contemplating spending a reasonable sum of money on a pet project which they may have dreamed about for years is bound to want to know quite a bit about the company they are considering doing business with. Naturally you will want to undertake your own research but allow us to take a little of your time now to provide basic details which you will be able to confirm at your leisure. The easiest way for us to present this information is to quote the three most-asked questions (what, where & who), and give the answers. When you have read these we hope you will have a much better idea of the service we offer and whether we can help you. Let us begin then, with a basic review of our services.
Welcome to the unique world of COUNTRYSIDE MODELS
- where seeing really is believing. . .
What does COUNTRYSIDE MODELS actually do?
trainsCOUNTRYSIDE MODELS undertake commissions to build model railways. We offer a complete service from design, through construction to final delivery. First we listen to the customer's requirements and suggest a concept that suits them.(Note) If that is acceptable we create detailed design sketches to suit our customer's individual requirements.
trainsOnce those designs are agreed we begin construction, add all the required detailing and then, after a Factory Acceptance Test to which the customer or his/her representative is invited, we organise delivery and, where necessary, commissioning on site.
trainsWhen the model is complete we supply instruction and tuition on both operation and maintenance. Finally, should a layout need relocating for any reason, then we are able to help there too, including possible alterations to fit the model to its new home.
Where are we based?
trainsCOUNTRYSIDE MODELS is based in rolling countryside on the Somerset/Dorset border in Southern England. We are three hours from London by car, (a little less by train), and for those in a tearing hurry we have a small local airfield which can cater for aircraft "up to two engines and six seats", (according to its manager)!
trains(Owing to the [incorrect!] assumption in certain quarters that we must have valuable models on site which might be worth stealing - not actually the case since we build large model railways, not easily-carried rolling stock - we do not give out our actual address unless we have a bona fide customer who wishes to pay us a visit. Such visits are always by arrangement only.)
Who runs COUNTRYSIDE MODELS?
trainsCOUNTRYSIDE MODELS' proprietor is Andy McMillan. Here's a brief introduction;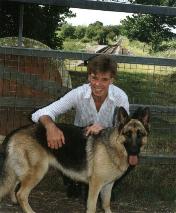 trainsAndy has been interested in trains all his life and began to model them seriously as a teenager. He realised there was an opening for someone with the ability to understand, and learning to overcome, all the problems connected with creating realistic, reliable - and above all satisfying - model railways. He therefore studied not only the prototype but the models themselves. He looked at what made them work: and more especially at what made them stop working. He also searched for precisely what it was that made one model railway absolutely fascinating and another terminally boring. He did this by applying similar analytical processes to that which critics apply to books or paintings. (At the drop of a hat he will enthuse endlessly on why he learnt so much from John Ruskin's writings on J. M. W. Turner!)
trainsAfter all this work and much else besides (including obtaining qualifications particularly suited to the problems of model engineering on the one hand as well as the rather more academic studies of railway and vernacular architecture, topography, geology and regional flora and fauna on the other), Andy has a unique understanding of what it is that makes a great model railway and the know-how to make it work and go on working. These are a rare mixture of skills and encompass not only the scientific disciplines of electrical, electronic and mechanical principle but the less easily defined artistic areas of theme, motif, proportion, composition and colour, not to mention considerable and continuing study of prototype railways in all their historic and varied magnificence. It is these unique skills which are on offer on this website.
(If you wish to see proof of any of the above, click here to find a list of his many published articles)
The majority of the rest of these pages are dedicated to finding out how best to use these skills for your model railway.
Tell me more about Andy McMillan