---
C

OUNTRYSIDE MODELS
Artists in Miniature Landscape
---
What you can expect for a budget of between...
£1,500 and £5,000.
(Many people opting for this price range have never built a model railway before.v If this is you; perhaps it would help if you read this first!v If you have built one; read on . . .)
Let's be realistic!v You are not going to get a model like one of those featured in our galleries for this kind of money. vWe usually charge £25.00 per hour which may seem expensive but compared to your local garage (which probably charges at least thrice that), and considering the enormous experiece we have, our charges are actually most reasonable.
Assuming a material cost of £500 for timber, track, electrics and scenic materials and taking your average 40 hour week your £1,500 will pay for around one week's work. v You can assume that making a baseboard will take a day or so. v (Longer if it has to be in several sections!) vLaying the track and wiring it up will have to be accomplished in around 10 hours, including making a basic control panel! vTime for little more than a circle of track and a point, a controller and a switch or two.
That leaves just 3 days for all the scenery, including a backscene. v As you can see, you are not going to get much quantity for a fifteen hundred pounds. vHowever, what you will get is . . .
| | | |
| --- | --- | --- |
| tab | Good design! | This is based on the choices you make when filling in our questionnaire. |
| tab | Quality workmanship! | Over 35 year's experience means we can make a reliable and long-lived model. |
| tab | An attractive finished model! | All our models - even ones based on industrial works - look attractive and all are complete within themselves.v No polite comments from the family of, "It'll look nice when it's finished!" |
| tab | Entertainment value! | Even our simplest models can be operated to a "Working Time Table" - unless you especially want a "tailchaser" of course - which means hours of fun locked within your own little world. vAs the saying goes;- it's not what you've got, it's how you use it! |
---
aligning text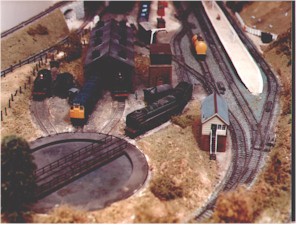 Part of a boy's "tailchaser" trainset
made using mainly Hornby components.
What sort of layout can I have in this price range?
There are two basic types of model railway and both can be built in any of the price ranges. Price merely dictates the amount of time and material which can be spent on any particular commission.
These first of these two types are the "tailchaser" which is usually on a rectangular board from about 3' - 6" to 4' wide and from about 5' - 6" to about 8' long. One or two circles of track can be laid with a few points - the more points, the greater the cost, remember. This type normally represents a "through" station where a train arrives from "offscene", stops at, shunts or passes through the station and then moves on. Continuous running is possible which is why these are popular with younger children.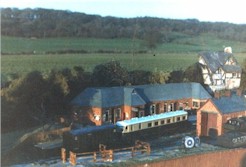 A glimpse of a very small (only 7' x 1'-6") "00" branch terminus I made many years ago - before my photography improved!
The other type is the "branch Terminus". This could be a long thin layout, or wrapped around a board of similar size to the tailchaser. In this model a branch terminus forms the station. This has the advantage that you have to reverse the direction of every train which arrives or, put another way, you get more action from each of your "actors". The "off-stage" section can be a return loop, or what is called a "Fiddle Yard". This is lengths of plain track which represent the rest of the railway system. It holds several trains which appear one after the other. Between operating sessions you "fiddle" the trains to turn them around and, if you want to, change their rolling stock.
indent A recent addition to our Gallery shows Upper Isis, another version of this popular type of model which would repay a close study by anyone contemplating opting for this kind of model.
One final point...
For the very smallest layouts, (i.e. models which fit into this price range), we can seldom reproduce a genuine "real life" station since there is not enough money to build a long model to accomodate a scaled down real station - real ones were usually very long, even in 00 scale! ( There were a few exceptions however if you are really keen - Blagdon, Watlington and Highworth spring to mind! )
We can however, use our knowledge, skill and experience to suggest a simplified design which will capture the "spirit" of a real railway in miniature, even if that is just an oval of track with one siding! (And yes, it is possible to make a realistic model railway, capable of giving its owner enjoyable operation with such a design - if one chooses the right period and company!)
"When do I pay and how much ?"
For smaller models, there are usually two payments, one when you commission the model and another upon customer acceptance, at our premises, prior to delivery. (Incidentally, models destined for Europe are normally delivered by road and those for overseas by air). Delivery is extra and for small layouts this is normally £200 plus £2 per mile.
We take care of design, construction, decoration, delivery and, should it be required, we can also arrange maintenance contracts. That, in a nutshell, is what we do and that's what you will be paying for.
If you would like a quote for a specific layout, why not fill in our questionnaire which asks all we need to know? We will be only too happy to oblige!