---
C

OUNTRYSIDE MODELS
Artists in Miniature Landscape
---
The Countryside Models Consultation Process

l First we listen.
l Then we suggest a concept.
l When you agree we draw up a detailed plan.
l When you are satisfied you pay a deposit and we start work.

Finding out what you want.

trainsAny consultation is a two-way learning curve. We need to understand how we can help you and you will want us to use our knowledge and experience to tell you what is possible. Mare than thirty five years in this business has proved that if we take the trouble to learn what you find so interesting about railways, we can use this knowledge to conceive a model railway which will capture your imagination.

trainsUntil the internet broadened our profile, consultations normally took place face to face during a visit to our workshops. Here we could show you work in progress and discuss your project at length. Indeed, a face-to-face meeting is still our preferred way of doing business. but obviously this may not be possible for all our internet customers , so to enable us to learn your exact requirements we have prepared a questionnaire.

trainsThis not only asks the basic information we need to know (such as style, size and budget), it goes on to ask more detailed questions (such as your preferences for scale, prototype and location). We also ask which aspects of real and model railways you find the most fascinating because these fascinations are very individual things. At COUNTRYSIDE MODELS we believe it is probably accidental brushes with fate in our youth which spark all our abiding curiosities in later life - and for those of us bitten with the railway "bug" it is simply a matter of discovering what that germ of interest was and then following it to see how it has developed over the years. It is to answer some these questions that we ask you to fill in our questionnaire.

The Concept

trainsWhen you e-mail your completed questionnaire to us we take note of the various (and often disparate), interests recorded on it and hope we can visualise what type of model would be most effective for you.

trainsThe information you provide us with and a myriad other factors are all taken into account. After appropriate consideration - which usually means mulling over all this information while waiting for inspiration to strike - and occasionally after making a request for further information, we use our knowledge and experience to propose a concept - our suggestion for a particular type and size of model railway.

trainsWhatever the inspiration for our concept, we sketch it out so you can understand it, add substance by including as much historical background information as seems appropriate for your particular model, and then e-mail our ideas back to you. If we have it right you can give us your "concept approval" and we can move to the next stage - the detailed plan.

The Plan.

trainsOnce the concept is agreed, we offer to create what we call "the plan". This is a carefully produced, detailed plan for a model railway uniquely tailored to your personal requirements. The plan will show every track, every point, bridges, tunnels, gradients, buildings (both in and outside the railway fence), spot heights at various key positions and last, but by no means least, a carefully worked out scenic setting which balances the often conflicting demands of artistic interpretation, engineering limitations and historical accuracy. This artistic treatment is not only central to the finished appearance of the model, it is an intrinsic part of the mood the model creates and a vital constituent of "realism". And it is by continually creating a successful balance of historical accuracy, mechanical reliability and artistic creativity that Countryside Models has remained so successful for so long. Our artistic treatment of model railways is what makes us unique. It is, in fact, our "trademark".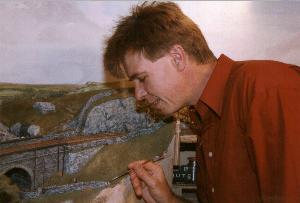 trainsIn the best of all possible worlds we would then take the time to research precisely which engines, carriages and wagons (and their loads !), would have run on the line modelled at the period agreed and make models of them. We can certainly do this but unfortunately few of our customers can afford the wait, never mind the cost, of our undertaking such painstaking research but then again, few seem especially concerned to have such details exactly correct and a fair approximation is usually acceptable. This is entirely understandable since few of us see our fantasies or remember our dreams in precise detail for it is usually the aura of these things which grasps the heartstrings with such tenacity.
trainsFinally, it is in the choice of detail where our intimate knowledge of some of the more popular railway companies (and a broad knowledge of many others - there were over a hundred in the U.K. alone), comes in handy. Unfortunately, in one lifetime it is impossible to know intimately every detail of every railway and there are always occasions when a customer has a fascination for a subject which we know little about. However, that very fascination means the potential customer has often carried out his or her own research and the information we need is therefore readily available when we come to preparing a design for his model. If not, there are always experts available and they can be contacted to provide assistance and knowledge about any railway anywhere in the world. Probably.
trainsUnfortunately it is at this point that we have to start charging for our services because it takes a lot of time to create detailed drawings and people have been known to make good use of our time and expertise but proved unwilling to pay for it! We therefore ask for a fee to cover our time in drawing up your plan. This will be notified in the covering letter we send with our "concept" so there will be no hidden surprises! Should you accept the plan and order a layout this payment will be deducted from the cost of your model railway - and we can't say fairer than that, can we?
Starting Work on Your Model.
trainsWhen we actually begin work depends on a number of circumstances. These are all explained in our terms of business.
Back to Home Page